Guide to Connecting Computer Power Supply to Motherboard
Step 9: Connect ATX 24/20-Pin Computer
Power Supply Cable to Motherboard
Align the clip of the ATX 24/20-pin connector with the notch in the plug and safely and firmly clip it in place. New motherboards now use the 24-pin connector instead of the 20-pin.
The newer CPUs use an extra 4 or 8-pin 12-volt connector on the motherboard. Ensure that the relevant cable is attached to this connector on the mainboard.
Click here to read "What is a Computer Motherboard?".
Note: An incorrectly installed connector will 'burn' your computer.
(See Diagram Below).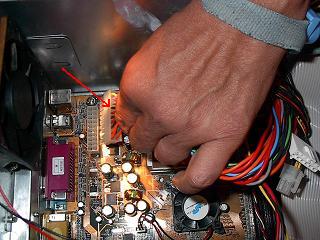 Installation of an ATX 20-Pin Connector


---
Click Here go to to Step 10: Install Computer Video Card

Back / Next
Click here to read: "Computer Power Supply and how it works!"
.
Click here for cheap computer PSUs at great prices.
Browse here for all the steps in the
Build Your Own Cheap Computer tutorial


---
Return from Computer Power Supply to
Cheap Computer Home Page