Guide to Connecting Computer Front Panel Switches
to Motherboard
Step 8: Connect Computer Front Panel Switches/LEDs, Speaker, USB Connectors
This step may seem very simple but to complete your system properly, you need to have these switches, LEDs, speaker and USB ports properly connected.
There are two front panel switches - the power switch and the reset switch.
These switches and LEDs are part of the computer case.

Before doing your connections, consult your computer mainboard manual and examine mainboard to decide where to make these connections.
If you connect them backwards, you won't hurt anything but the lights and switches won't work. Simply, reverse the connections if you have this problem. (See Diagram A below).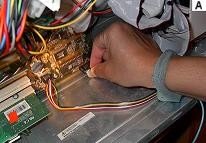 Installation of front panel switches, LEDs and Speaker.

I hope that you noted the Anti-Static Wrist Band being worn to protect the computer from Static Electricity. Click here to view my article on Static Electricity


Browse Here to view the list of all the steps in the
Build Your Own Cheap Computer tutorial


---
Click Here to go to Step 9: Connect ATX 20-Pin
Power Supply Connector to Motherboard

Back / Next
Return from Computer Front Panel Switches to
Cheap Computer Homepage