Selecting a Cheap Computer Desk
Custom Search
Choosing a cheap Computer Desk that is right for you is very important.
You should choose one to suit the size of the area where it will be installed.
Click here to view some cheap computer desks.
You should not use a standard office desk as a computer desk.
A desk that would normally be an ideal height for pen and paper writing will often be too high and uncomfortable to use for typing on a computer keyboard or looking at a computer monitor.
If you have a small area, click here to view some computer desks that are for limited areas.
Click here to read about Computer Ergonomics.
The information being presented on this page is to:
Assist you in selecting a desk that is right for you.
Present tips for an ergonomically designed desk/workstation.
Convenience Concepts Modern No Tools Student Desk
With lots of storage space available and the convenience of no tools assembly, this is the perfect desk for any student. There is plenty of storage space and it is very economical yet durable.
You don't have to know anything about tools in order to successfully assemble this computer desk and you'll have the satisfaction of creating a great piece of furniture that you will enjoy for years!
No tools required! Easy no tools assembly. Super-easy to assemble in a few minutes. Easy to follow diagrams will lead you from start to finish in no time.
Lots of Storage space.
Economical yet durable.
Stainless steel poles.
High quality and very affordable.
Solidly constructed to support the weight of TVs and decorative accessories.
Shelves that are finished on both sides.
Selecting your cheap computer desk
When making your desk selection, you should check for the following:
Ample desktop space to place your monitor and printer.
Separate shelf for storing the computer.
Shelves for storing files, documents, books, CDs, etc.
Ample storage space for storing printer paper, etc.
A slide-out keyboard tray.
You need a comfortable computer desk
Because I use my computer a lot, I need to have a very comfortable and ergonomic workstation.
It should have lots of desktop space to allow easy access to your documents.
ACME 00118 Vincent Computer Desk
This Vincent collection computer desk consists of a sliding tray. Accommodates a desktop or laptop computer. Provides plenty of storage in its simple design. Compartments are open to enable electric cords. Also connect various computer components to one another and to a power outlet. Measures 32-inch length by 24-inch width by 30-inch height. Desk weighs 36-pound. Available in silver finish.
Vincent collection computer desk.
Comes with silver finish.
Accommodates a desktop or laptop computer.
This product weighs 36-pound.
Measures 32-inch length by 24-inch width by 30-inch height.
Ergonomics and your work area - Your desk

Ergonomics is the science of adjusting your work environment to fit your body and to make it as comfortable as possible.
Choosing computer furniture that is ergonomically designed is extremely important for your health.
If you are unable to sit comfortably with your wrists in a neutral position, you should pick a different computer desk.
Furinno JAYA Simplistic Computer Study Desk with Bin Drawers, Espresso
Furinno JAYA Simplistic Computer Study Desk with Bin Drawers is designed for space saving and modern stylish look. It is great for apartments and dorms where space is limited. The shelves provide storage spaces for computer, books and other accessories. Two non-woven bins are provided for storage of small loose stuff.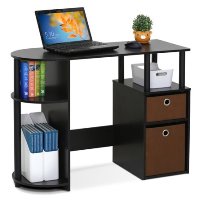 Simple design computer desk with open shelves and bin drawers.
Manufactured from composite wood.
Great for room with limited storage space.
Some assembly required.
Dimensions: 38.39" x 28.58" x 15.55".
Customers' Reviews:
"I purchased this desk for a work at home station due to going remote on my job. It's a perfect fit in my bedroom. Not too big but not too small either. The desk top is big enough to just squeeze two monitors and a keyboard. For the price, it was everything I needed".
"I got the study desk because I have a very small space available for my desk top. It is perfect, compact with a lot of basic storage and a great buy for what you get".
Click here to view the Furinno JAYA Simplistic Computer Study Desk.
Listed below are some tips that are recommended to help you organize your desk and enable you to work comfortably:
Organize your desktop so that items that you use frequently are closer to you for easy access.
Avoid cluttering under your computer desk so as to be able to comfortably accommodate your legs and allow for stretching.
If you have a desk lamp, you should position it so that it puts light on your documents without causing problems with glare on your computer screen or affecting your eyes.
If you are right-handed, place the phone to your left and if you are left-handed, place the phone to your right.
Use a document holder to secure the document that you are reading from while typing. This will result in more desktop space and will also be particularly useful for you to be able to re-focus when looking back from the screen to your document.
Conclusion
Having an ergonomically designed work area is so very important since it will help to reduce fatigue and other health-related problems that can occur if you use the wrong computer desk.


Check out some cheap computer chairs here.
Click here for my Cheap Computer Chair Guide.
---
If you would like to learn how to Build Your Own Cheap Computer, browse here for all the steps in the tutorial


---
Click here and look at my BEST Online Cheap Computer Retailers' Guide. This guide allows you to visit a number of the BEST online Cheap Computer Retailers.
---