Custom Search
The best computer system should meet your computing requirements. Before deciding on which PC is the right one for you, you should first ask yourself:
• What will I be using my computer to do?
• Do I need a laptop or a desktop?
• How much money do I have to spend on my computer?
You must think about what you want your computer to do for you before you can decide on what features you will need.
My Best Computer System Guide will help you to select a computer system that is best for your requirements.
This guide will assist you in choosing a computer based on your budget and your needs. Choosing a computer that is best for you is an important and individual decision.
What is a computer?
What a computer can do for you is unlimited! Owning a computer has become such an important part of our daily lives and, to use it, we should try to know as much about it as we possibly can.
Click here to learn What is a Computer?
Getting the best computer system that is right for you
A computer will allow you to perform repetitious tasks quickly and efficiently. You should get one that supports the tasks that you do most.
If you produce a lot of letters, reports, newsletters and other documents, the word processing capabilities of a computer would possibly enhance your efficiency. If your activities involve a lot of accounting, a spreadsheet program might be very helpful for you to have.
Depending on what you will be using your computer for, there are a variety of programs for you to choose from.
Figure 1 below lists some of the things that you will be able to do with your computer. You should review this list to see if the items listed would be of assistance to you.
What you can do with your Computer:
FIGURE 1:
Prepare Documents: Produce letters, newsletters, reports, memos.
Do Accounting: Produce spreadsheets.
Make Graphics/Pictures: Produce various pictures.
Sort Records: Personal information.
Get on the Internet: Sign up with an Internet Service Provider (ISP).
Playing and recording music: Archive your old vinyl LPs and cassettes.
E-mail: Send and receive e-mail.
Talk to others on the Internet: Use a Messenger Service to talk to family and friends via the Internet.
Have fun: There are various types of games available.
FIGURE 1 (above) - These are some of the things that you will be able to do with your computer.
You should identify your best computer needs before buying a system or building your own cheap computer. This will ensure that you get one that will support your requirements.
You need to ask yourself - "What will I be using my computer to do?" Try to imagine exactly what you will need to be doing with your computer.
To help you with your decision, I have created a check list (Figure 2 below) which you might find very useful:
FIGURE 2: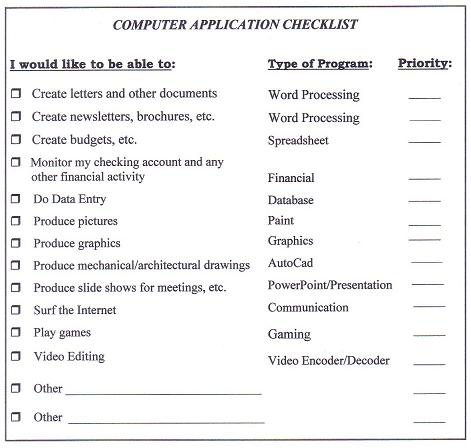 FIGURE 2 (above) - Print the form shown in Figure 2 and put a check mark in any of the boxes relating to a task that you would like to be able do with your computer system. Then, using the 'Priority' column (to the extreme right), prioritize the list in order of importance - For example, 1, 2, 3 ....
Choosing your Best Computer Software
After deciding on what you want your computer to do, you are now ready to choose your software.
Most computers come with an operating system software pre-installed.
Choosing your System Requirements
After deciding on the software that you will be using, you will now be ready to determine what your system requirements should be. This is an extremely important step since it will enable you to choose the right components for the best computer system. Also, if you are buying a complete system, which one you should choose.
You should thoroughly read the specification that is given for the specific software package.
Best Computer Tips:
The software might sometimes show both the Minimum and Recommended system requirements. I would suggest that you use the Recommended requirements as your guide.
Get a fast enough processor (preferably Quad Core -Intel or AMD) to enable the future upgrading of your system.
Get as much memory as you possibly can afford to enhance your computer's performance.
If you are thinking of purchasing a cheap computer or building your own, get more hard disk space than you have determined that you will need now. Buy as large a hard drive as you can possibly afford to allow for future upgrading .

Continue to next page - Selecting the Best Computer System  >>>>

---
If you would like to learn to Build Your Own Cheap Computer, browse here for a free step by step tutorial





Return from Best Computer to Cheap Computer Home Page